Purl Points Scheme
The Purl Points Scheme is a loyalty program that rewards our retailers with extra products when they collect enough points. To find out what prizes you can redeem, check the table below.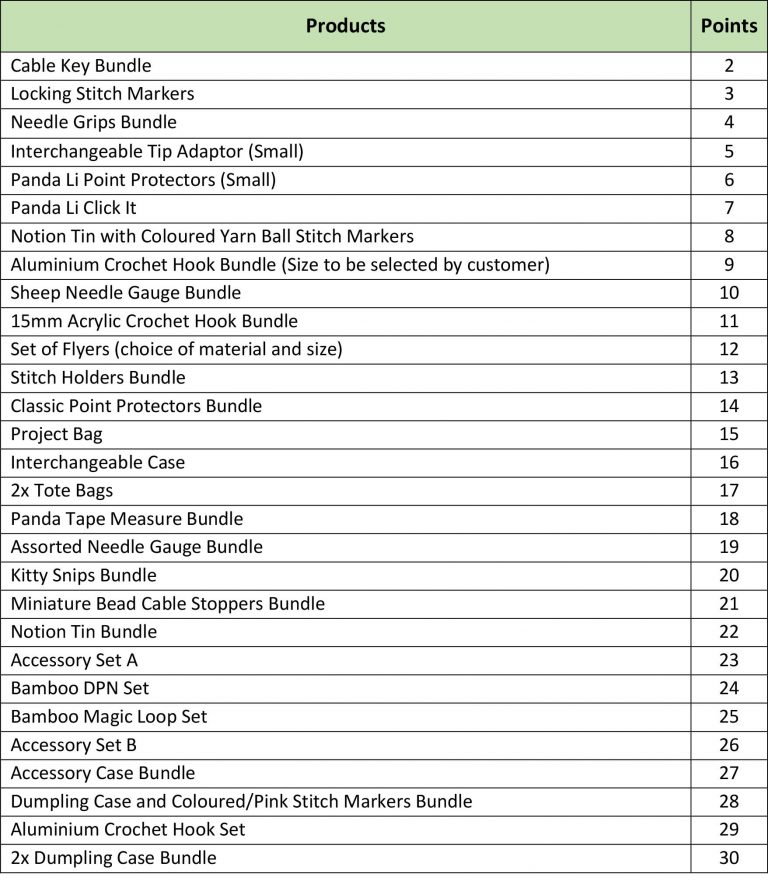 *The scheme runs from 1st May to 31st October 2019, inclusive. All points must be redeemed before the 31st October 2019. Terms and conditions apply.

FAQs
1. How do I join the Purl Points Scheme?
Simply register for an account and you will automatically be enrolled into the scheme. If you are a new retailer, you will earn 1 point on your first order.
2. How do I earn loyalty points?
Earn 1 point for every £50 you spend online for all orders within the qualifying period (1st May 2019 until 31st October 2019, inclusive). Each time you spend, you will receive an email with your updated loyalty points balance. Use your loyalty points to claim the rewards that you'd like from the list of specially-selected products or save them up to unlock higher points required rewards. [Points earned or redeemed do not apply to tax or shipping].
3. How do I check my loyalty points balance?
Each time you shop online, you will receive our Purl Points Scheme email with your updated points balance. You can easily see the rewards you have unlocked based on the points you've accumulated or what other exciting rewards you could receive if you were to continue placing orders within the qualifying period.
4. How can I redeem my rewards?
When you've unlocked a reward, email [email protected] to receive a unique reward coupon. Just copy and paste your unique code when you come to the Payment Method section and click Apply (only one coupon code per order) to redeem it. If you would like to redeem more than one reward, kindly make your request when you email [email protected] so you'll receive your very own unique code, combining the items you'd like to redeem in a single transaction. Codes are only valid for rewards being redeemed, and not on tax or shipping.